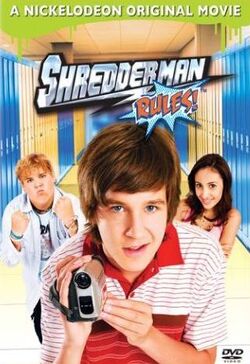 Shredderman Rules is a 2007 television film based on Wendelin Van Draanen's Shredderman book series. It originally aired on Nickelodeon along with the series finale episode of Ned's Declassified on June 9, 2007, and had 3.9 million viewers. The film is also the first film to be aired under the Nickelodeon Original Movie banner.
The film stars Ned's Declassified School Survival Guide's Devon Werkheiser as Nolan Byrd (also known as "Shredderman"). Shredderman Rules chronicles Nolan's attempts at stopping Bubba Bixby (Andrew Caldwell) from bullying him by setting up a website with the pen name of "Shredderman."
Ad blocker interference detected!
Wikia is a free-to-use site that makes money from advertising. We have a modified experience for viewers using ad blockers

Wikia is not accessible if you've made further modifications. Remove the custom ad blocker rule(s) and the page will load as expected.