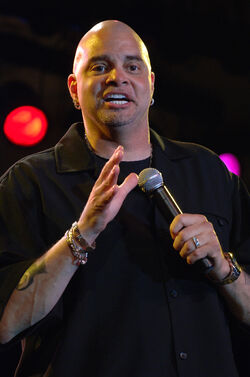 David Adkins (born November 10, 1956) better known by his professional name of Sinbad, is an American stand-up comedian and actor. He became well known in the 1990s from being featured on his own HBO specials, appearing on several television series, and starring in the films Necessary Roughness, Houseguest, First Kid, and Jingle All the Way
In 1997 he starred in the Nickelodeon Movie Good Burger as Mr. Wheat, the teacher whose car Dexter Reed, played by Kenan Thompson, destroyed, leading to the latter's job at the title restaurant.
He also appeared in the December 30, 1995 episode of All That, as Sinboo, the father of Thompson's Ishboo character.
Ad blocker interference detected!
Wikia is a free-to-use site that makes money from advertising. We have a modified experience for viewers using ad blockers

Wikia is not accessible if you've made further modifications. Remove the custom ad blocker rule(s) and the page will load as expected.