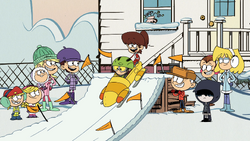 "Snow Bored" is the second segment of the twenty-fourth episode of The Loud House.
Summary
The Loud kids set out to show Lisa what is "fun" about a snow day.
Notes
The snow falling off the tree onto Lincoln right after he crashes his sled mimics the title card shot from A Charlie Brown Christmas.
External links
"Gee, this is harder than I thought."
This article about an episode is a stub. You can help Nickipedia by expanding it.
Ad blocker interference detected!
Wikia is a free-to-use site that makes money from advertising. We have a modified experience for viewers using ad blockers

Wikia is not accessible if you've made further modifications. Remove the custom ad blocker rule(s) and the page will load as expected.