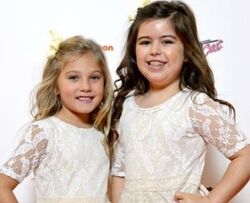 Sophia Grace Brownlee (born April 18, 2003) and her cousin Rosie McClelland (born September 7, 2006), both from Essex, England, make up the singing/dancing duo Sophia Grace & Rosie.
Both cousins have appeared on two episodes of Sam & Cat - "#TheBritBrats" and "#RevengeofTheBritBrats".
Ad blocker interference detected!
Wikia is a free-to-use site that makes money from advertising. We have a modified experience for viewers using ad blockers

Wikia is not accessible if you've made further modifications. Remove the custom ad blocker rule(s) and the page will load as expected.