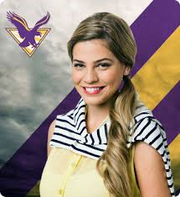 Sophie Newman is one of the main characters in the Israeli drama show; The Greenhouse, played by Shir Moreno. In the show she is featured as the captain of the Eagles.
Appearance
Sophie is a young Israeli girl of about 18, with tanned skin, brown eyes and long blond hair. She can usually be seen wearing a pink t-shirt with the Eagles insignia on it, but is also known to wear a variety of different Eagle branded pieces of clothing.
Personality
In the beginning Sophie was pretty vain and tended to care more about updating the Greenhouse blog, therefore causing her to become very nosy. However as the seasons progress, she begins to become more mature and caring for those around her, however her decisions as leader of the Eagles may still cause occasional stirs.
Ad blocker interference detected!
Wikia is a free-to-use site that makes money from advertising. We have a modified experience for viewers using ad blockers

Wikia is not accessible if you've made further modifications. Remove the custom ad blocker rule(s) and the page will load as expected.