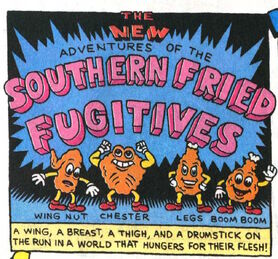 Southern Fried Fugitives
(earlier "
The New Adventures of the Southern Fried Fugitives
") was a comic by Simon and Kim Deitch that ran in
Nickelodeon Magazine
until December 1999. It was about the adventures of four pieces of fried chicken brought to life by a thunderstorm - "A wing, a breast, a thigh, and a drumstick on the run in a world that hungers for their flesh!". In the first panel of each strip, the reader would be reminded of the names of the four pieces of chicken - "Chester", "Boom Boom", "Legs", and "Wing Nut."
Comic Gallery
Gallery (other)