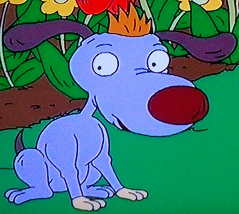 Spiffy is a dog character seen on the Nickelodeon cartoon Rugrats and its spinoff, All Grown Up. He is the son of Spike Pickles and Fifi Finster. He is currently owned by his father's owners, the Pickles family. He has a sister, Pepper, who remained with the Finsters while his other siblings were adopted by other families.
Spiffy is brave, adventurous, hyper, fun-loving and generally excitable, just like Kimi Finster
Eventually, Spiffy ends up living with his father, Spike, at the Pickles' house. M Stu kept begging Didi into letting him stay, saying it'd be wrong to separate father and son. Didi reluctantly agrees.
Spiffy does appear on All Grown Up, still living with the Pickles.
Ad blocker interference detected!
Wikia is a free-to-use site that makes money from advertising. We have a modified experience for viewers using ad blockers

Wikia is not accessible if you've made further modifications. Remove the custom ad blocker rule(s) and the page will load as expected.