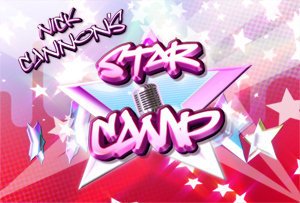 Star Camp is the first broadband series on Nickelodeon and aired on TurboNick hosted by executive producer, Nick Cannon and with his mentor, Quincy Jones and Quincy "QD3" Jones III. The show premiered on July 22, 2007.
Plot
Nick Cannon is on mission to create new stars as he takes 10 talented kids that could sing, dance, and act and take them together to make a multi-media mega group as they are named The Giggle Club as they are going to make a album and do a live stage show tour as Nick sets up a boot camp, so the ten learns how to be superstars.
The Giggle Club
Members
William May (Big Will)
Jesse Brown (Casper)
Amanda Mosesly (Mandy Rain)
Adam G. Sevani (80-D)
Antonio Anderson (M-One)
Cashae Davis (Young Daisy)
Jessica Salinaz (Jessi J)
Malik Mc Nair (Mac Flossy)
Tehabranna McNair (Bre-Roca)
Aftermath of the Group
The group split up as their final performance was on August 26, which aired on TEENick block as the members went solo. They recorded 7 songs as they are available on MySpace.
Songs
The Giggle Club
Welcome
Crush
Anything You Can Do I Could do Better
Jump Rope
We are the World
Ad blocker interference detected!
Wikia is a free-to-use site that makes money from advertising. We have a modified experience for viewers using ad blockers

Wikia is not accessible if you've made further modifications. Remove the custom ad blocker rule(s) and the page will load as expected.