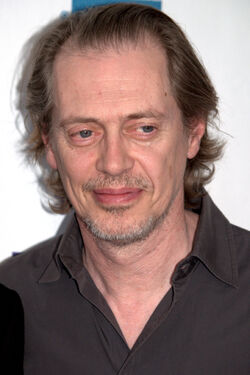 Steven Vincent "Steve" Buscemi (born December 13, 1957) is an American actor, writer and film director. An associate member of the renowned experimental theater company The Wooster Group, Buscemi has starred and supported in successful Hollywood and indie films including New York Stories,Mystery Train, Reservoir Dogs, Desperado, Con Air, Armageddon, The Grey Zone, Ghost World and Big Fish; and the HBO television series The Sopranos. He is also known for his appearances in many films by the Coen brothers: Miller's Crossing, Barton Fink, The Hudsucker Proxy, Fargo, The Big Lebowski and Paris, je t'aime.
Since 2010, he has been starring the critically acclaimed series Boardwalk Empire, which earned him a Screen Actors Guild Award and a Golden Globe, being also nominated for an Emmy Award.
He is best known on Nickelodeon as Phil Hickle on The Adventures of Pete & Pete. He later voiced Templeton in the Nickelodeon Movie Charlotte's Web.
Ad blocker interference detected!
Wikia is a free-to-use site that makes money from advertising. We have a modified experience for viewers using ad blockers

Wikia is not accessible if you've made further modifications. Remove the custom ad blocker rule(s) and the page will load as expected.