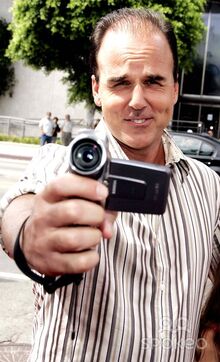 Steven Brent "Steve" Oedekerk (November 27, 1961--) is an American comedian, director, editor, producer, screenwriter and actor who is best known for his collaborations with actor Jim Carrey and director Tom Shadyac(particularly the Ace Ventura franchise), his series of "Thumbmation" shorts and his film Kung Pow: Enter the Fist(2002). In 1990, he founded the entertainment company O Entertainment. In 1997 he created and starred in a variety special for NBC, featuring computer animation, entitled The O Show (also known as steve.oedekerk.com. He is also executive producer of the computer animated cartoon series The Adventures of Jimmy Neutron: Boy Genius on Nickelodeon. He wrote, produced, and directed the animated feature film Barnyard In 2006, then its TV series Back at the Barnyard a year later.
Ad blocker interference detected!
Wikia is a free-to-use site that makes money from advertising. We have a modified experience for viewers using ad blockers

Wikia is not accessible if you've made further modifications. Remove the custom ad blocker rule(s) and the page will load as expected.