"Stimpy's Fan Club" is the 29th episode of The Ren & Stimpy Show.
Summary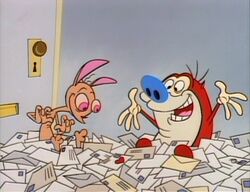 When Stimpy becomes the adoration of many fans, Ren becomes jealous. So, Stimpy makes him president of the Stimpy fan club, which only leads to Ren becoming even more jealous. The next day, Ren is sent a fan letter, of which he gloats about to Stimpy, but then cries out of shame when he learns the letter was from Stimpy himself.
Trivia
The scene where Ren has a fantasy of being president became an internet meme, with videos replacing Ren with someone else.
Home video releases
VHS
Ren & Stimpy: The Classics II
Nickelodeon Friends Variety Pack (partial)
Laserdisc
The Ren & Stimpy Show: The Essential Collection - Classics I & II
DVD
The Ren & Stimpy Show: The First and Second Seasons
External links