"Stimpy's Invention" is the second segment of the sixth episode of The Ren & Stimpy Show, and also the last episode to air as part of the show's first season.
Synopsis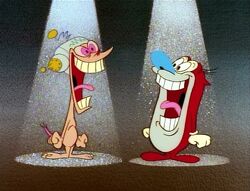 After Ren tries some of Stimpy's inventions that work poorly, Stimpy invents a "Happy Helmet" to make Ren feel happier, at which Ren is forcefully happy. By the end, Ren destroys the Happy Helmet and he's mad at Stimpy and glad to be mad.
Songs
Notes
This episode was ranked #78 in The 100 Greatest Nicktoon Episodes countdown.
This was the last new episode of Ren & Stimpy to premiere on Sunday morning, as the series would later join the original SNICK lineup that fall.
Home video releases
VHS
The Ren & Stimpy Show - Volume 1: The Classics
Laserdisc
The Ren & Stimpy Show: The Essential Collection - Classics I & II
DVD
The Best of Ren & Stimpy
The Ren & Stimpy Show: The First and Second Seasons
"Gee, this is harder than I thought."
This article about an episode is a stub. You can help Nickipedia by expanding it.