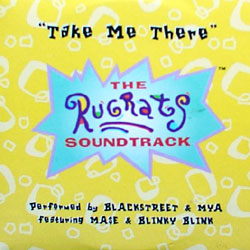 "Take Me There" is a Pop/R&B song by American quartet Blackstreet and Mýa and features Bad Boy rappers Ma$e and Blinky Blink. The track was produced by Teddy Riley for the soundtrack for the motion picture film The Rugrats Movie and featured on Blackstreet's fourth studio album Finally. The song was written by Mason Betha, Michael Foster, Madeline Nelson, Teddy Riley, and Tamara Savage. The film also serves as the theme song for The Rugrats Movie.
The music video premiered in October 1998. The video starts with Angelica Pickles turning on the television to a clip of the Rugrats pulling the Reptar Wagon up a hill then to the music video. The clip used appears to be the deleted scene "The Rugrats March". It takes place in a realistic, live action version of the Pickles' house, with Mýa and Blackstreet dancing through the house. Mýa is seen in Tommy Pickles' bedroom and the members Blackstreet are seen in the kitchen. During the rap from Mase and Blinky Blink, they are driving the Reptar Wagon. During this part, they used the background from a scene in the film. It also contains clips from the movie. As the video ends Angelica turns the television off. The video premiered as a part of Blackstreet and Mýa's hosting of SNICK.
It is the first track on the movie soundtrack. To promote the film and its soundtrack, the song was performed when Blackstreet and Mya were musical guests on All That in the fifth season premiere.