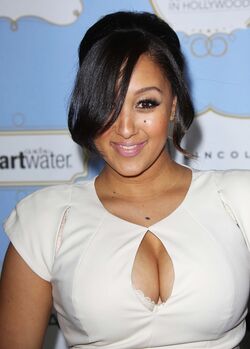 Tamera Darvette Mowry-Housley (born July 6, 1978) is an American actress. She first gained fame for her teen role as Tamera Campbell on the ABC/WB sitcom Sister, Sister, opposite her identical twin sister Tia Mowry.
In 1995, she starred in the Are You Afraid of the Dark? episode "The Tale of the Chameleons" as the Evil Chameleon.
She and her twin sister Tia appeared in a "Good Burger" sketch in the third season premiere of All That, which had LL Cool J as the musical guest.
In the Blue's Clues episode "Blue's Birthday", Mowry and her sister make a cameo appearance as two of the celebrities wishing Blue a happy birthday in her birthday card.