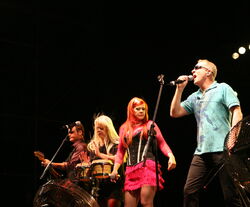 The B-52's are an American rock band, formed in Athens, Georgia in 1976. The original line-up consisted of Fred Schneider (vocals, cowbell), Kate Pierson (vocals, keyboards), Cindy Wilson (vocals, tambourine, bongos), Ricky Wilson (guitar), and Keith Strickland (drums). Following Ricky Wilson's death in 1985 Strickland switched to guitar. Rooted in New Wave and 1960s rock and roll, the group later covered many genres ranging from post-punk to pop rock.
Pierson and Schneider sang the theme song to Rocko's Modern Life from the second season of the show onwards. It was the third version of the theme song used.
Ad blocker interference detected!
Wikia is a free-to-use site that makes money from advertising. We have a modified experience for viewers using ad blockers

Wikia is not accessible if you've made further modifications. Remove the custom ad blocker rule(s) and the page will load as expected.