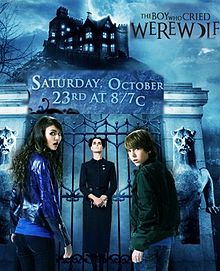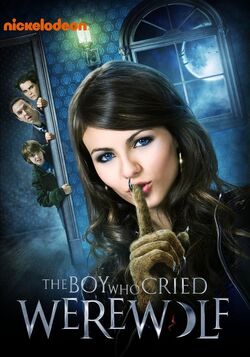 The Boy Who Cried Werewolf is a Nickelodeon made-for-TV movie starring Victoria Justice, Chase Ellison , Matt Winston, and Brooke Shields. The film premiered October 23, 2010.
Plot
Jordan Sands is a allgery-prone, awkward, nerdy teenager who has to be the woman of the house since her mother's death and her widowed father is struggling with her younger brother, Hunter Sands with his gory pranks. The family goes to Wolfberg to honor the famous Wolfbergs Beast. As they meet the strange and steely housekeeper, Madame Varclaoc. The Sands' visit goes awry when a freak lab accident in which a vial of LB-217, in which Jordan steps in as Hunter gets the vial shard out of Jordan's foot And starts developing into a transformation into a werewolf.
Availability
The movie was released as a manufacture-on-demand DVD, sold exclusively on Amazon.com, on November 8, 2013. A Blu-ray release followed on December 4, 2015.
Cast
Victoria Justice as Jordan Sands
Chase Ellison as Hunter Sands
Brooke Shields as Madame Varcloac
Matt Winston as David Sands
Brooke D'Orsay as Paulina
External links
Ad blocker interference detected!
Wikia is a free-to-use site that makes money from advertising. We have a modified experience for viewers using ad blockers

Wikia is not accessible if you've made further modifications. Remove the custom ad blocker rule(s) and the page will load as expected.