The Journey of Allen Strange



The title card of The Journey of Allen Strange

Created by:
Thomas W. Lynch
Running time:
22 minutes
Original run:
November 8, 1997 - April 23, 2000
The Journey of Allen Strange was a television series on Nickelodeon's SNICK block of programming for three seasons from 1997 to 2000.
Premise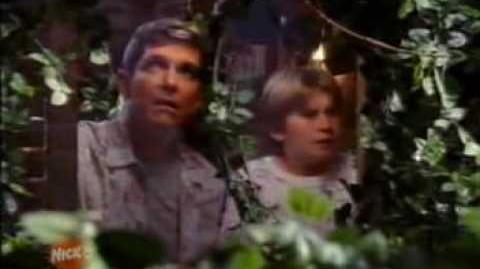 The series follows the story of a young Xelan alien (Arjay Smith) who is stranded on earth, and meets up with a young girl Robbie Stevenson (Erin J. Dean) and her younger brother Josh (Shane Sweet) and father. This family eventually adopts him, giving him the name "Allen Strange". Allen has extraordinary powers, including the ability to turn into his alien form, which allows him to hover. He uses his abilities to bring a mannequin in a sporting goods store to life; this "animated mannequin" poses as Allen's Earth father, Manfred, for events like parent-teacher conferences. He also possesses extremely high intelligence and can read incredibly fast by simply placing his hand on the cover of a book. Allen has an affinity for canned cheese, and lives in the family's attic in a strange alien cocoon.
Allen states he has "chosen" to be African-American when confronted with the task of blending in with society. His naivety on the subject (bringing in plain black posterboards for his Black History Month presentation) sparked a Black History Month episode, featuring Allen learning information about slavery and The Civil Rights Movement.
In the weeks leading up to the series' premiere, Nickelodeon ran a series of teaser ads which would at first appear to be promos for other shows, or for Nickelodeon in general, when a blue ooze would fill the screen as an announcer said cryptically, "Something strange is coming to SNICK. November 8." The blue ooze would then clear out and the interrupted promo would conclude as if nothing had happened.
Characters
Book series
A nine-book series, based on the episodes, was also printed, written by several authors, including John Vornholt and Mel Odom.
The Arrival
Invasion
Split Image
Legacy
Depth Charge
Alien Vacation
Election Connection
Joyride
Changeling Diapers
Episodes
→ Main article: List of The Journey of Allen Strange episodes
The Journey of Allen Strange episodes
Season
Ep #
First Airdate
Last Airdate
Season 1
13
November 6, 1999
February 19, 2000
Season 2
26
July 15, 2000
April 7, 2001
Season 3
16
January 19, 2002
September 14, 2002
Trivia
The creator named Allen's character which is close to Alien, what Allen is.
The show produced 11 songs but never released them.
External links