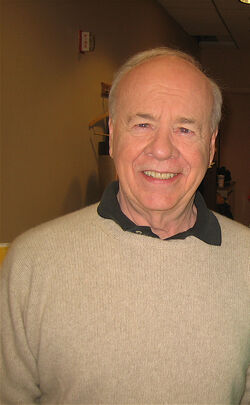 Thomas Daniel "Tim" Conway (born December 15, 1933) is an American comedian and actor, primarily known for his roles in sitcoms, films and television. Conway is best known for his role as the inept second-in-command officer, Ensign Charles Parker, to Lt. Commander Quinton McHale (played by Ernest Borgnine), in the popular 1960s WWII sitcom McHale's Navy, and for co-starring alongside Carol Burnett on The Carol Burnett Show.
Conway is best known as present-day Barnacle Boy, a recurring superhero sidekick character on the Nickelodeon animated series SpongeBob SquarePants. The character is the sidekick to Mermaid Man, who is voiced by Borgnine. In "Mermaidman Begins", it is revealed that Barnacle Boy's identity before becoming the superhero was named Tim as well.
Ad blocker interference detected!
Wikia is a free-to-use site that makes money from advertising. We have a modified experience for viewers using ad blockers

Wikia is not accessible if you've made further modifications. Remove the custom ad blocker rule(s) and the page will load as expected.