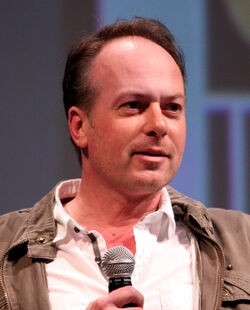 Thomas "Tom" McGrath (born August 7, 1964) is an American voice actor and animator who co-directed (with Eric Darnell) the 2005 feature Madagascar and its sequel, Madagascar: Escape 2 Africa in 2008. He has also worked as a voice actor on other DreamWorks animated features like Flushed Away in 2006 and Shrek the Third in 2007. He also stepped in on Flushed Away to help make improvements prior to its release.
On the Madagascar spinoff series The Penguins of Madagascar, airing on Nickelodeon, he is creator, writer, creative consultant, and voice of Skipper. Prior to joining Dreamworks, he was storyboard artist and director for the popular series The Ren and Stimpy Show, one of the original Nicktoons.
Ad blocker interference detected!
Wikia is a free-to-use site that makes money from advertising. We have a modified experience for viewers using ad blockers

Wikia is not accessible if you've made further modifications. Remove the custom ad blocker rule(s) and the page will load as expected.