Anthony Frank "Tony" Hawk (born May 12, 1968) is a retired American professional skateboarder and actor. Hawk gained significant fame for completing the first 900 as well as his licensed video game titles distributed by Activision. He is widely considered one of the most successful and influential pioneers of modern vertical skateboarding.
Throughout his career, Hawk has made numerous appearances in films and other media. For Nickelodeon, he has appeared in episodes of Rocket Power, All That, Yo Gabba Gabba!, The Naked Brothers Band, and the Drake & Josh TV movie Drake & Josh Go Hollywood, all as himself.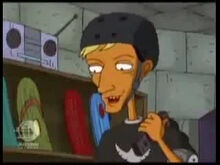 Ad blocker interference detected!
Wikia is a free-to-use site that makes money from advertising. We have a modified experience for viewers using ad blockers

Wikia is not accessible if you've made further modifications. Remove the custom ad blocker rule(s) and the page will load as expected.