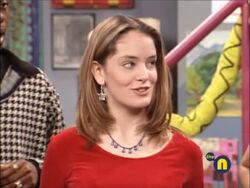 Tricia Dickson is an American voice actress who has had roles in anime and video game titles for New Generation Pictures.
In 1997, she joined the cast of All That in its third season as a featured player. She was credited as "Also Appearing", and the opening was only updated to say that, not refilming scenes to include her with the cast. She had no notable characters and was fired at the end of that same season.
Ad blocker interference detected!
Wikia is a free-to-use site that makes money from advertising. We have a modified experience for viewers using ad blockers

Wikia is not accessible if you've made further modifications. Remove the custom ad blocker rule(s) and the page will load as expected.