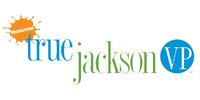 This is a list of the episodes from the Nickelodeon series True Jackson, VP. Every episode starts with the show appearing with the Mad Styles building., with True Jackson Keke Palmer shortly narrating, "True Jackson was filmed in front of a live studio audience".
Overview
Season
Episodes
Originally aired
Season premiere
Season finale
1
20
November 8, 2008
October 17, 2009
2
34
November 14, 2009
May 28, 2011[1]
Episodes
Season 1: 2008-2009
Episode #
Title
Original air date
Production code
1
"Pilot"
November 8, 2008
101
A girl named True Jackson gets a job as Vice President of Mad Style Fashion Company by the boss, Max (Greg Proops). True invites her friends to help her out on her first day. True sees that most people from the company don't like her ideas and personality. At first, True was considering to quit. She instead changes her mind, after she's comforted by her boss' nephew, Jimmy,(Robbie Amell) whom she develops a crush on that says it is just like high school with different cliques. Now, True is more confident, and Lulu becomes her new assistant, after True fires her old assistant Cricket.
2
"Firing Lulu"
November 15, 2008
102
True must decide whether to fire Lulu after she makes a mistake with one too many of True's projects. After True fires Lulu, True begins to feel ashamed for firing her best friend. Amanda tells True the life of the Fashion business and friendship combined. Now, Lulu comes back to work and True apologize in the end, and True re-hires Lulu. Meanwhile, Ryan tries to make a funny website, but keeps failing.
3
"Babysitting Dakota"
November 22, 2008
103
Amanda assigns True to look after a famous super model, Dakota North (Nathalia Ramos). But True realizes that she is difficult to take care of. Lulu believes Amanda did it to make True's assignment harder. True tells Dakota that she should go and have fun instead of being cranky, but True doesn't realize that the conference is taking place that same day. True needs to find out what to do before the conference starts, or she'll be fired. Meanwhile, Ryan tries to get a girl working at Happy Berry Yum Yum by convincing Lulu to pretend to be his girlfriend.

Guest Star: Nathalia Ramos as Dakota North

4
"Ryan on Wheels"
December 6, 2008
104
True must design skateboard clothes and Ryan Sheckler is coming for a visit. But after Ryan makes a harsh comment about True's design, herself and Lulu go undercover as boys, only to realize it is a cover so they won't go and find out Ryan can't skate. Unfortunately, they figure it out after they bragged about him. They sign Ryan up for the expedition race. Ryan Sheckler goes undercover as Ryan to help him win he does. Meanwhile Amanda must be nice to keep her new assistant from quitting.

Guest Star: Ryan Sheckler as himself

5
"Telling Amanda"
December 13, 2008
105
Ryan sees Amanda's boyfriend making out with another woman. So he and True decide to follow them only to discover he's cheating on her. True decides it's best to tell Amanda, which only makes Amanda mad at her. Meanwhile, Max enlists Lulu to help his accountant with an audit, and Lulu thinks he may be Santa Claus after observing his striking resemblance to Kris Kringle, not to mention his jolly chuckle, "Jingle Bells" ringtone and North Pole vernacular.

Guest Star: Stephen Dunham as Chad Brackett

6
"The Prototype"
January 3, 2009
106
On Friday the 13th, True lends Lulu a dress from the vault for her to wear at her cousin's party, unaware that it is a one-of-a-kind prototype. When True finds out, she and Amanda must get the dress off Lulu at the party before Max finds out and True's lucky streak breaks.
7
"ReTRUEnion"
January 17, 2009
107
Amanda overloads on beauty products in preperation for her high school reunion. True, Lulu, and Ryan find Amanda's old High School yearbook. When they check it out, they find out that Amanda used to be a dork to the other kids.
8
"True Takes On Iceland"
January 24, 2009
108
Amanda's mean assistant, Claire (Julie Bowen), returns. But when the head of Iceland's largest retail chain visits Mad Style, Amanda and True compete to see whose design gets to be featured, which leads to disaster when Lulu tries to help out. Meanwhile, Ryan tries to impress a model by saying he's the vice president.
9
"True Matchmaker"
February 7, 2009
109
True tries to mend Max's broken heart by fixing him up with her school's librarian after he learns his ex-fiance is marrying someone else. Meanwhile, Amanda and Oscar bond over their secret love of a ridiculous sci-fi.
10
"The Rival"
February 16, 2009
110
Max's fashion nemesis tries to lure True to come work for him. In order to decide who wins True, and a trophy Max and Simon devise an elaborate and expensive (Human) chess game in a mysterious unknown dimension.

Guest Star: Andy Richter as Simon Christini.

11
"Company Retreat"
February 28, 2009
111
Max sets up a company retreat so that everyone in the office will learn to trust each other. Everyone ends up learing a secret from one another, including Max's plan to sell the company, True's crush, a horse statue destruction, and a revenge-seeking assistant.

Guest Star: Yvette Nicole Brown as Coral Barns

12
"Keeping Tabs"
March 7, 2009
112
True gets in trouble with Mad Style's accountant when she overspends with her company credit card at a very expensive restaurant. She can be fired and go to jail. When it is revealed she held the elevator for the accountant, she drops all charges, but deducts part of her pay for the lunch. Meanwhile, a talking pony is hunting down Lulu in the office so he can sing the "Pancake Song".
13
"Red Carpet"
March 21, 2009
113
True designs a dress for a big name TV actress, but is asked to make some alterations to the dress. The outfit gets slammed by a ruthless Fashion critic on the red carpet, dashing True's hopes for a good career. Meanwhile, Ryan is hired by Max to design a new website for the company, after joining in on a meeting at the beginning of the episode. Amanda teaches Lulu about the stock market and she makes investments in funny-named companies that prove profitable.

Guest Star: Arden Myrin as Big TV Actress

14
"Switcheroo"
April 11, 2009
114
In an attempt to expand his employees' skills and knowledge beyond their own departments, Max temporarily assigns everyone a different job. Amanda and the copy room guy swap places, Max takes Oscar's position, Oscar takes Lulu's position, Lulu takes Jimmy's position, Jimmy becomes a security guard, Ryan takes True's position, and True becomes the boss.
15
"True Intrigue"
April 22, 2009
115
While in Africa, Max uncovers an earth friendly fabric, and True has to keep it a secret until her company can share it with the world, but when Ryan finds that a college student hoping for an internship is actually a spy for Christini, but is not believed by anyone, he must find a way to expose her himself.
16
"Amanda Hires a Pink"
May 16, 2009
116
The mean girls at True's school show up at Mad Style and intimidate her, so Amanda takes advantage of the situation and hires their leader, Pinky, as her assistant. True then loses focus and makes an error at work, which she tries to rectify in a creative way.

Guest Star: Jennette McCurdy as Pinky Turzo

17
"Max Mannequin"
June 13, 2009
117
Max seeks help from True and her friends in coming up with a creative way to propose to his girlfriend. When True and Ryan head out to pick up the ring, they run into a little trouble involving a cop---and a mannequin.
18
"True's New Assistant"
June 27, 2009
118
True's science teacher, Mr. Jamerson fills in as her assistant for a week as Lulu fills in for the accountant that Ryan injured.

Guest Star: Vincent Ventresca as Mr. Jamerson

19
"House Party"
July 11, 2009
119
Lulu's boyfriend Mikey J throws a party allowing Lulu to bring her friends, Ryan accidentally invites Amanda and Amanda invites Max meanwhile True has trouble balancing work with her social life, and this problem comes to a head when she needs to prepare for a presentation and also support her pals by attending their big party. At the party, True meets an old friend from grammar school who thinks that work is more important than friends.

Guest Star: Taylor Parks as Shelly

20-21
"Back To School: Testing True"
July 25, 2009
120-121
In the first two-part episode of the series, The first week of school begins while True has a choice to make between work and school. Meanwhile, Max's old flame Sophie Girard comes to town, wanting to get him back after already learning he is engaged.

Guest Stars: Gail O'Grady as Sophie Girard, Willow Smith as Young True and Kelly Perine as Larry Jackson, True's dad

(Note: Nickelodeon promoted this two-part episode under the title "Testing True" as a one-hour special, The actual production notes lists the episodes under the title "Back to School". These episodes were the last produced episodes for Season 1.)

22
"Fashion Week"
September 12, 2009
122
True is determined to present her dream dress in the Young Designers Showcase during fashion week. But, Jobi Castanueva the fashion week committee chairman was Amanda's old assistant and disapproves True's design. Meanwhile, Ryan brings his hamster Chewy to Mad Style, which causes chaos. Chewy runs over Kopelman, and gets into Mr. Madigan's piano. Thus, Ryan and Jimmy are forced to team up to get Chewy out of Mr. Madigan's office before any more trouble is caused.

Guest Star: Ian Gomez as Jobi Castanueva

23
"True Crush"
September 19, 2009
123
When True is invited to the Last Minute Ball, Lulu and Ryan fight over who goes with her when she only has one extra ticket, but True actually wants to go with Jimmy. However, True soon faces competition as Jimmy's date when a model named Vivian shows up to Mad Style. Meanwhile, Ryan uses a prank that he used in a dream to trick Amanda's new assistant, Laura. But, when Laura quits Ryan must perform Amanda's work without letting her know.

Guest Star: Victoria Justice as Vivian

(Note: This episode aired on September 7 in Canada.)

24
"Hotshot""
September 26, 2009
124
Max hires another teen fashion designer for Mad Style called Jasper. True feels that Max cares more about Jasper than about her. But, True discovers that Jasper is a phony when he steals her "Back to School" design and gives it to Max. When Jasper becomes the new VP, he must present his design to the other VP's. When Mr. Madigan sees the design when it's not on paper he can tell that it is True's, not Jasper's, because of the lining. In the end Jasper gets fired. Meanwhile, Lulu helps Ryan prepare for his history test by making it believe he's on a game show in his mind.
25
"The Wedding"
October 3, 2009
125
Max plans to get married at the city zoo and True and Amanda compete to design the bridal gown for Doris. The wedding planner then quits with True (whom he hired as his assistant) having to save the day from becoming a disaster. After Ryan knocks over the wedding cake, he tries to make a new one with help from Hibbert.

Guest Star: Jack Plotnick as Matsor LaRue

26
"The Dance"
October 17, 2009
126
When Mikey J doesn't ask Lulu to the Back-to-School Dance, she thinks that he and True are going out when she finds True dancing with him. But True confronts Lulu and tells her that she was teaching Mikey J how to dance. Meanwhile, Ryan and Jimmy find the ghost of an old receptionist. Also, when Amanda falls in love with a model, she cancels the other models who auditioned for the new catalog.
Season 2: 2009-2011
Episode #
Title
Original air date
Production code
1
27
"True Concert"
November 14, 2009
204
True needs to raise $6,000 to save her school's design department so she needs to find a guest singer. She gets Justin Bieber to sing his hit single "One Time", but must get a replacement when he is injured right before the event. At the show, Ryan's magic show and Jimmy playing the drums and singing "Fire and Ice" has the audience throw cabbages at them and booed off the stage. Meanwhile, Lulu feels she and Mikey J. are distancing apart.

Guest Stars: Justin Bieber as Himself and Care Bears on Fire as Themselves

Absent: Danielle Bisutti as Amanda Cantwell, Greg Proops as Max Madigan, and Ron Butler as Oscar|-align="center"

2-3
28-29
"The New Kid (Part 1)/Little Shakespeare(Part2)"
November 21, 2009
201-202
When a new kid named Justin comes to True's school, he confesses that he has a crush on her. The one thing he won't confess: he's a famous rapper in disguise. Meanwhile, Jimmy become a pilot and Ryan becomes vice president of ideas for a big time airline company and Lulu becomes jealous of Mikey J.'s compatibility to Kelsey, Ryan's crush.

Guest Stars: Tyler James Williams as Justin Webber, Janel Parrish as Kyla (Both parts), Philip Baker Hall as Mr. Jenkins, Galaxy Airlines Chairman (Part 1) and Natasha Bedingfield as Herself (Part 2)

Absent: Greg Proops as Max Madigan (Part 2)|-align="center"

4
30
"True Parade"
December 12, 2009
210
Max challenges the designers to come up with an idea for the promotion of Mad Style. True's idea is to design a jacket for a game show host to wear in the Macy's parade, but her plan backfires when she finds out that Max hates him. Meanwhile, a fortune teller predicts that either Lulu or Ryan will break their arm, while the other will win a thousand dollars.

Guest Star: Nicole Sullivan as Kreuftlva the fortune-teller|-align="center"

5
31
"True Drama"
January 9, 2010
211
Ryan joins the Drama Club in order to win Kelsey's heart and winds up becoming the director of the school play. True and Lulu are excited to have Ryan direct since he's casting Lulu as the lead and True as the costume designer; however, things quickly go awry when Kelsey begins to act like a diva. In the name of love, Ryan gives Kelsey the lead and fires True, leading True to make a deal with the incorrigible Pinky Turzo (Jennette McCurdy), to plot revenge.

Guest Star: Jennette McCurdy as Pinky Turzo|-align="center"

6
32
"My Boss Ate My Homework"
January 16, 2010
203
Max must go to detention at True's school after accidentally eating a flash drive containing her homework. While he is gone he puts True in charge of the office, but when the paranoid and overzealous fire marshal comes and shuts down Mad Style because she asked to finish their meeting before his inspection, she must take action. Meanwhile, Ryan tries out for cheerleading to avenge the firing of Kelsey from the squad.

Guest Star: Richard Karn as Fire Marshal O'Dannon|-align="center"

7
33
"Little Buddies"
January 30, 2010
208
True, Lulu and Ryan must mentor incoming freshman for a day. True decides to take her little buddy, Molly, to work with her, although she is shy. While there, Molly criticizes True's new dress after being asked her opinion. True later learns to accept it, and makes a better dress with a new fabric. Meanwhile, Lulu's little buddy, 35 year old "Babs" teaches her about life. Also, Ryan's little buddy, Nate, gets him into all kinds of trouble, until he finally gets him busted.

Guest Stars: Laura Marano as Molly, Bobb'e J. Thompson as Nate, and Pamela Adlon as Babs

Absent: Greg Proops as Max Madigan|-align="center"

8
34
"True Valentine"
February 6, 2010
206
True and Jimmy go the Valentine's dance just as friends, even though they both want to admit they have feelings for each other. Meanwhile, Amanda keeps sending herself flowers from Brock Champion, and everyone calls her crazy. But she actually meant Brock, whom first appeared in episode "The Dance" who she dated for 19 days, until he left to play baseball in Peru. He reappears at the end while Amanda is talking to True and Lulu, and he asks her to marry him. Also, Ryan finds out Kelsey likes him, and Mikey J. writes a song for Lulu.

Absent: Greg Proops as Max Madigan and Dan Kopelman|-align="center"

9
35
"True Date"
February 20, 2010
212
In the aftermath of Valentine's Day, True and Jimmy prepare to go on their first date, just as Max implements new rules banning Mad Style employees from dating each other. Meanwhile, Amanda begins planning her wedding to Brock with little advice from Doris.|-align="center"
10
36
"The Hunky Librarian"
March 13, 2010
210
When True and Lulu talk about Doris' attractive assistant librarian, True is dragged into Max and Doris' relationship problems. Meanwhile, Ryan opens a rash museum after noticing that his rash resembles Taylor Swift.

Guest Star: Travis Schuldt as Lance Whipple

Absent: Ron Butler as Oscar|-align="center"

11
37
"Saving Snackleberry"
March 20, 2010
213
True and Lulu mistakenly arrange for Max to host a dinner party at Ryan's favorite kid-friendly, hobo-themed restaurant, Snackleberry Junction. Meanwhile, Jimmy takes over as receptionist while Oscar is on vacation and refuses to let Hibbert perform his job.

Guest Stars: Wendie Malick as Libby Gibbils, Stephen Tobolowsky as Lars Balthazar, Tom Kenny as Bingo and Craig Anton as Snackleberry Junction Chef

Absent:Ron Butler as Oscar|-align="center"

12
38
"Pajama Party"
April 3, 2010
207
Amanda shows up at True's slumber party and they become competitive when playing a board game. Meanwhile, Lulu becomes jealous when Shelly (Taylor Parks) tells her she had a dream about Mikey J. Also, Ryan and Jimmy attend a preview screening of a John Cena movie and wind up meeting the action star.

Guest Stars: Willow Smith as Young True, Vivica A. Fox as Mrs. Jackson, Italia Ricci as Herself and John Cena as Himself

Absent: Greg Proops as Max Madigan and Ron Butler as Oscar|-align="center"

13
39
"The Gift"
April 17, 2010
205
True and Lulu arrange a surprise office visit from Mr. Madigan's Uncle Cheswick as a birthday gift, unaware that Uncle Cheswick is a horse. Meanwhile, Ryan's older and more successful brother, Stu (Ian Reed Kesler) visits and announces he is quitting business school to become an artist.

Guest Star: Henry Hereford as Ryan's Great Grandfather|-align="center"

14
40
"True Royal"
May 1, 2010
214
True designs a tuxedo for a young prince (Nathan Kress), then causes trouble when she gives him a tour of New York City. Meanwhile, Amanda pretends to be Lulu's mother in order to win a "Mothers in Fashion" award, the only fashion award she doesn't own, also Jimmy gets a new souped up mail cart after Ryan breaks it.

Guest Stars: Nathan Kress as Prince Gabriel, Oliver Muirhead as Ian, Gabriel's Butler, Tom Kenny as Bingo and J. P. Manoux as Snackleberry Junction Waiter

Absent: Greg Proops as Max Madigan|-align="center"

15
41
"True Fear"
May 8, 2010
216
Max accompanies True to her career day with Max being outdone by Royce Bingham, an international spy. Max then becomes sick from eating too many shrimp hor d'oeuvres and asks True to give a speech at a fashion convention in his absence. But the problem is that True has a fear of public speaking. Meanwhile, Ryan and Lulu suspect that Amanda's new male model is a vampire.


Guest Star: Paul F. Tompkins as Royce Bingham|-align="center"

16
42
"The Reject Room"
May 15, 2010
215
True finds out that some her design ideas have been rejected and takes her displeasure out on Max. Meanwhile, Amanda's ex-boyfriend Chad Brackett (Stephen Dunham) returns and invites the Mad Style staff to his art exhibit that depicts Amanda in an unflattering manner|-align="center"
17-18
43-44
"Mission Gone Bad (part1)/
Trapped in Paris (part2)"
May 22, 2010
218-219
True accidentally places Doris' wedding ring in a vest pocket and sends the vest to Paris. So True and Lulu disguise themselves as flight attendants and sneak to Paris. But they get trapped in an old mansion must design a dress for complicated french heiress. Meanwhile, Amanda hires Ryan as a model for her boy fashion line.

Guest Stars: Gage Golightly as Vanessa, Jessica Makinson as rude airline passenger, Michele Boyd as Nicole, a french model, Stefán Karl Stefánsson as Karl Gustav, Samantha Boscarino as Karla Gustav, Lawrence Palmer (Keke Palmer's brother) as Ricky Racecar and the cast of Yo Gabba Gabba!|-align="center"

19
45
"Heatwave"
June 26, 2010
217
Max gives True the responsibility of coming up with brand new design for a winter coat by the end of the work day. She uses Ryan as a model for the coat, but he can not stand the unbearable heat, they then move their work to company's arctic room. Unfortunately, Max's private ice cream stash was stored there and it all melts after Ryan blows up the air conditioner when he invites students from school. True then races to find the ice cream recipe before Max finds out. Meanwhile, Amanda's hair gets way too frizzy from the heat just as she is about to model for a magazine.|-align="center"
20
46
"True Magic: True Kiss"
August 7, 2010
220
Hank, Jimmy's mail room partner is retiring and a new girl named Sienna comes in to replace him. Jimmy and Sienna instantly catch each other's interest for their love of mail, making True jealous. True then wonders what her relationship with Jimmy is like at the moment. Meanwhile, Ryan tries to get accepted into the Junior Magicians Club (The JMC) but is beaten by a talented girl magician named Bernie. Max (Who was once the greatest magician in the world) helps Ryan with his routine and Max once again squares off with magic rival, Donald the Delightful, who was once Max's assistant. True shows up at the postal ball that Jimmy and Sienna are attending, she is unable to get in the building. Jimmy comes out tells True that he has mutual feelings for her, they then share a kiss.


Guest Stars: Hayley Erin as Sienna, Cymphonique Miller as Bernie and French Stewart as Donald the Delightful|-align="center"

21
47
"True Luck"
September 11, 2010
221
"True's uncle gets a job at Mad Style. Meanwhile, Lulu has a dream about Ryan".

Main Summary: True's calamitous uncle starts working at Mad Style & his bad luck appears to be contagius after True's exposure to him results in some setback for her latest project.

Absent: Robbie Amell as Jimmy, Ron Butler as Oscar and Greg Proops as Mr. Madigan|-align="center"

22
48
"The Fifth of Prankuary"
September 25, 2010
224
Max dares the Mad Style employees to perform their best pranks, but True and Lulu take things too far when they think he's playing a prank on them at school by givng them a fake standardized exam.|-align="center"
23
49
"Mad Rocks"
October 2, 2010
222
"Mad Rocks", an annual rock-oriented fashion show comes around with Lulu agreeing to plan the event but True knowing about Lulu's irresponsibilities in the past is reluctant to let her plan it herself. Her eavesdropping nearly deters the event from happening but tries to save the day by bringing Jimmy's band Fire & Ice back together. Meanwhile, Max is on vacation, but he is still watching over the company with a camera helmet worn by Amanda.

Guest Stars: Fefe Fobson as Herself, Nick Palatas as Skeet and Julia Duffy as Ms. Watson

Absent: Ron Butler as Oscar and Greg Proops as Mr. Madigan, though he is mentioned many times in the episode.|-align="center"

24
50
"True Secret"
October 9, 2010
223
Max arranges a carnival in Mad Style, during this time True and Jimmy show affection for each other when no one is around. When Max catches them kissing, he demands that one of them must quit by the end of the day. When True and Jimmy decide that they both do not want to quit, Max finally decides to get rid of the no employees dating policy. Meanwhile, Ryan has hard time winning a teddy bear prize for Kelsey at the carnival.

Guest Star: Dave Allen as Mitchell|-align="center"

25
51
"Class Election"
October 16, 2010
225
True and Shelly go against Lulu and Mikey J. and Kyle Sandbox and Kelsey in the class president and vice president election.

Absent: Danielle Bisutti as Amanda Cantwell, Ron Butler as Oscar and Greg Proops as Mr. Madigan|-align="center"

26
52
"True Drive"
November 6, 2010
226
True is overwhelmed with tasks for the day from taking her driving test, to designing a dress for girl's sweet 16 party, picking Jimmy's father from the airport as well as also planning a surprise bithday party for Jimmy. Meanwhile, Max is unaware that a "lucky" pair of pants that he has shared with friends is not lucky at all. Also,

Ryan is worried about a marble-sized growth growing on his arm.

Guest Star: Tim Bagley as Ed Wheeler|-align="center"

27
53
"True Disaster"
November 13, 2010
228
True and Lulu try to sneak out of the office to get B.o.B tickets, while doing that thay must be absolutely quiet not to disturb Amanda who has a serious migraine. True then agrees to let her Uncle Troy's girl soccer team have a birthday party at Mad Style. Meanwhile, Ryan, Jimmy and Max spend the day at a comic book store in New Jersey.|-align="center"
54
"True Fame"
February 5, 2011
228
A movie star (Leon Thomas III) catches True's eye, making Jimmy jealous.|-align="center"
29
55
"Field Trip"
February 12, 2011
227
True's class goes on a field trip to a Colonial living history attraction. While there True wants Jimmy to kiss her in the famed Lovers Tower, so they can be together forever. Lulu suspects than an actor playing Benjamin Franklin is also the same actor who is the star of her favorite TV show.

Absent: Ron Butler as Oscar Guest star: Thomas F. Wilson as Benjamin Franklin|-align="center"

30
56
"Principal for a Day"
February 26, 2011
229
Ryan takes over as temporary principal, after injuring Principal Ruckman in the science lab. Ryan's control over the school soon gets out of hand when he gives the teachers permanent detention and with Lulu being the only one to stop him. Meanwhile, True and Jimmy discover that Amanda has four other jobs in the building where Mad Style is located.

Absent: Greg Proops as Max Madigan|-align="center"

31
57
"True Mall"
March 5, 2011
230
A new Mad Style store opens at the local mall and True and Lulu work undercover to make sure the store functions properly. In the process, True hires Callie, a fashion-savvy but inexperienced co-worker as the store manager replacing the manager that Amanda originally hired. She nearly gives up her position, until she gets help from her friends. Meanwhile, Jimmy prevents Ryan from following True and Lulu to the mall.

Guest stars: Emma Lockhart as Callie and Raini Rodriguez as Nina Absent: Ron Butler as Oscar and Greg Proops as Max Madigan|-align="center"

32
58
"Ditch Day"
March 19, 2011
232
Max takes True and Lulu out of work for the day to fulfill a little boy's wish to conquer his bravery. But while helping the little boy they all end up in mall jail. Jimmy is upset at Ryan for calling his band Fire & Ice lame, so he embaresses him by making him wear a dress at the mall.|-align="center"
33-34
59-60
"Mystery in Peru"
April 2011
233-234
True, Lulu, Ryan, and Jimmy go to Peru for Amanda and Brock's wedding and discover there's a grand prize for whoever can capture a jewel thief, so the boys and the girls each try to find the criminal.

Series Finale.
References