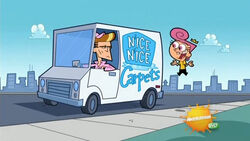 Robert Matthew Van Winkle (born October 31, 1967), best known by his stage name Vanilla Ice, is an American rapper, extreme athlete and home improvement television personality. Born in Dallas, Texas, and raised in Texas and South Florida, Van Winkle released his debut album, Hooked, in 1989 through Ichiban Records, before signing a contract with SBK Records, a record label of the EMI Group which released a reformatted version of the album under the title To the Extreme. Van Winkle's single "Ice Ice Baby" was the first hip hop single to top the Billboard charts.
In the Fairly OddParents episode "Escape From Unwish Island", it is revealed that he was a godchild to Cosmo and Wanda as a child, as his unwished wishes file is seen. In "Wishology: The Final Ending", he now runs Nice Nice Carpets, and is seen in his company truck catching up with Wanda.
Ad blocker interference detected!
Wikia is a free-to-use site that makes money from advertising. We have a modified experience for viewers using ad blockers

Wikia is not accessible if you've made further modifications. Remove the custom ad blocker rule(s) and the page will load as expected.