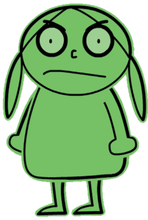 Vendetta is the main antagonist in the Making Fiends web series and TV series.
Personality
Vendetta is an evil green girl with the power to make fiends in her kitchen. When she came to the town of Clamburg everybody feared her because of her vile fiends. Soon enough, she became the unofficial leader of Clamburg.
"Gee, this is harder than I thought."
This article about a character is a stub. You can help Nickipedia by expanding it.