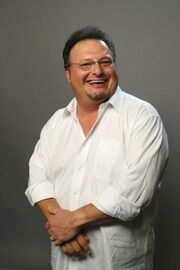 Wayne Eliot Knight
(born August 7, 1955) is an American actor, comedian, and voice actor perhaps best known for his role as Newman in the TV sitcom
Seinfeld
. His other prominent roles include Dennis Nedry in
Jurassic Park
, Stan Podolak in
Space Jam
, Al McWhiggin in
Toy Story 2
, Tantor in
Tarzan
, Don Orville in
3rd Rock from the Sun
, and Zack Mallozzi in
Rat Race
.
For Nickelodeon, he voiced Mr. Blik on Catscratch, Max the Cat in The Penguins of Madagascar episodes "Launchtime" and "Cat's Cradle", and is the voice of Jong on Kung Fu Panda: Legends of Awesomeness.
Ad blocker interference detected!
Wikia is a free-to-use site that makes money from advertising. We have a modified experience for viewers using ad blockers

Wikia is not accessible if you've made further modifications. Remove the custom ad blocker rule(s) and the page will load as expected.