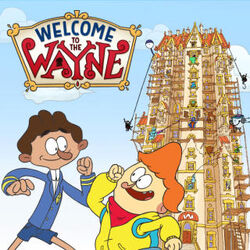 Welcome to the Wayne is an American animated web-series that debuted on Nick.com in July 2014. The mini-series follows the adventures of 10-year-olds Ansi Molina and Olly Timbers as they explore their apartment building and get mixed up in the craziness of the strange tenants that reside inside The Wayne. It is creator Billy Lopez's first animated series. It was later confirmed to be a full-length series that will air on July 24, 2017.[1]
Characters
Ansi Molina is a reserved and proper young boy and the newest resident of The Wayne. Obsessed with cleanliness and orderliness, he can often be seen cleansing his hands with a small bottle of hand sanitizer or adjusting his Lego-like toy creations (called "Gleeko") he built to match the pictures on the box. Ansi makes it known that he hates confined spaces and doesn't like to touch others. He also has amateur knowledge of kendo and a fighting spirit.
Olly Timbers is a zany and hyper-active boy that quickly befriends Ansi shortly after he moves in. Olly loves fun and adventure and he thrives off the antics that take place in the Wayne. He, along with his sister, is part of a mysterious organization that protects the residents of The Wayne from those that are up to no good. His favorite catch phrase is "WTTW", which stands for "Welcome to the Wayne". It is revealed that he has an amazing architectural ability and an incredibly creative mind, and he occasionally strolls about without pants "for comfort mostly".
Saraline Timbers is Olly's younger sister and a technical whiz. Using tech developed by her parents, she is able to keep surveillance on many of the apartment's residents. Quick-thinking and determined, she often takes charge on missions, much to the annoyance of her older brother.
Cast
References
Ad blocker interference detected!
Wikia is a free-to-use site that makes money from advertising. We have a modified experience for viewers using ad blockers

Wikia is not accessible if you've made further modifications. Remove the custom ad blocker rule(s) and the page will load as expected.