"
When Santas Collide
" is the 29th episode of
ChalkZone
, and also the last episode of the show's third season. As the title suggests, it is also the show's Christmas episode.
Summary
When Rudy doesn't find the colored pens he wants under his family's Christmas tree, he skips the family Yuletide celebration and goes to the ChalkZone holiday festival where he accidentally endangers Christmas there.
Home video releases
DVD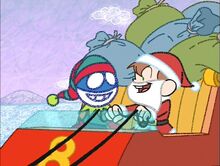 Nick Picks: Holiday
ChalkZone: The Complete Series
External links
"Gee, this is harder than I thought."
This article about an episode is a stub. You can help Nickipedia by expanding it.