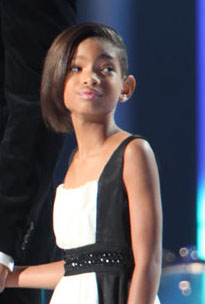 Willow Camille Reign Smith (born October 31, 2000), better known by Willow Smith or simply the mononym Willow, is an American child actress and singer who is the daughter of Will Smith and Jada Pinkett Smith, and the younger sister of Jaden Smith. She made her acting debut in 2007 in the film I Am Legend and later appeared in Kit Kittredge: An American Girl alongside Abigail Breslin. She received a Young Artist Award for her performance.
Apart from her acting she launched a music career in the fall of 2010 with the release of her single "Whip My Hair" and signing to Jay-Z's record label Roc Nation.
She appeared as a younger True Jackson in flashbacks in the True Jackson, VP episodes "Testing True" and "Pajama Party".