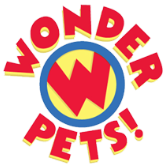 Wonder Pets! is an American television show for preschoolers ages 2-5 aired on Nick Jr. The show features three class pets, Ming-Ming the duckling, Linny the guinea pig and Tuck the turtle who turn into a team of superheroes whenever the students are away. In each episode, the trio goes on adventures in their Flyboat to save baby animals. The show was created by Josh Selig, well known for his previous TV series Oobi. It lasted for 3 seasons (including a hiatus from 2009-2013) from March 2006-December 2013.
Ad blocker interference detected!
Wikia is a free-to-use site that makes money from advertising. We have a modified experience for viewers using ad blockers

Wikia is not accessible if you've made further modifications. Remove the custom ad blocker rule(s) and the page will load as expected.